---
HERMETICA introduces G-BLock: ACTIVE SEALING Technology; DEFINITIVE technology for pipe leak repair.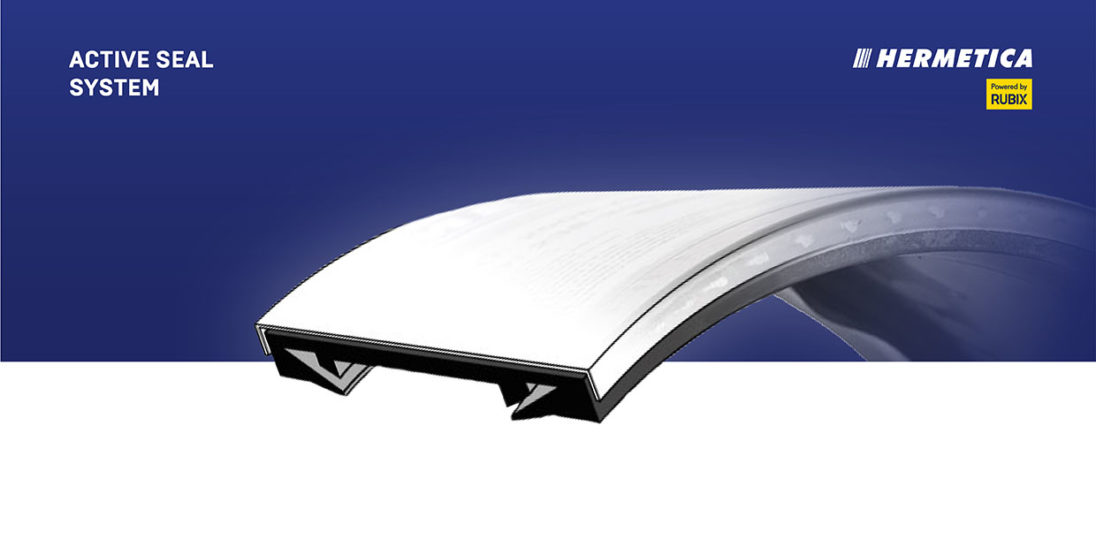 As we commented in our previous article, traditional repair clamp [flat gasket/waffle gasket or PASSIVE SEAL clamps] are used to repair pipes in many cases, even in those in which clamps have no technical base as to repair shear breaks or to repair separated, misaligned and deviated pipes.
The use of PASSIVE SEAL clamps in such situations often results in temporary repairs leading to water losses and ultimately wasting time and money for municipalities and water utilities.
In the 21st century, the era of the SMART City, telemetry and analysis through BIG DATA, remote regulation, sectorisation and pressure regulation… there are a number of technological advances that make it possible to improve the performance of networks. However, temporary and underperforming repair products are still being used. If a highly efficient network is to be achieved, it will only be possible if water losses due to leaks are tackled using the same technical solution.
In this article DHSF proposes the innovative solution for any kind of repair, providing a guide for installers, engineers, maintenance managers and anyone else involved in these repairs.
Pipe bursts are caused by a variety of situations such as ground movement [such as vibration or differential settlement], failure of the structural capacity of the pipe, temperature variations due to thermal cycling and of course hydraulic stresses [from continuous pressure variations to water hammers]. It is clear that the right solution for these situations must be able to adapt to these conditions. Of course, PASSIVE SEALING solutions are not, so they will cause more ruptures in the medium and long term or will have to be replaced in the short term (non-permanent repair).
So what does HERMETICA bring to this problem? What is HERMETICA G-BLock and what means an ACTIVE SEALING?
HERMETICA technology [website] proposes a solution that throught the fluid's pressure it generates an ACTIVE seal tension
HERMETICA gasket actively adapts to the changing environment situation (pressure fluctuations, vibrations, deflections, temperature changes) to guarantee a long-term definitive repair.
Unlike PASSIVE SEAL clamps, HERMETICA only requires 2 areas in contact with the pipe, located at both ends of the clamp. This is a technological breakthrough as it is able to solve any maintenance problem such as pipe connection, repair of cracks, or large perforations, as we will see below.
HERMETICA's G-BLock ACTIVE SEALING technology, with two sealing zones at the ends, allows a clamp of only 135 mm to solve cracks or perforations of up to 70 mm with all the guarantees.
HERMETICA range available
Width 140 mm | 70 mm effective
Width 200 mm | 130 mm effective
Width 380 mm | 300 mm effective
Bending breaks are no longer a problem:
Caused by ground movement or other bending forces, shear breaks result in pipes splitting in two. In these cases, HERMETICA clamp can be used directly [Case 1] or the method of replacing a complete pipe section with two pieces [Case 2] which also offers a higher dynamic deflection.
[Case 1] – Bending fracture + 2nd fracture due to a puncture/point corrosion [Case 2] – Large longitudinal rupture and complete change of pipe section
In case 1, the repair of a crack [+ a hole] is carried out with a clamp over the damaged area. As the sealing is done at the ends of the clamp, the sealing will be perfect regardless of the geometry of the crack, as long as it is within the SEALING UTILITY ZONE.
In case 2, the replacement of a section also offers a permanent repair. G-BLock ACTIVE SEALING technology helps to absorb possible future ground movements and prevent future breaks.
HERMETICA provides greater flexibility in the section of the pipe where it is most needed.
In addition, due to its versatility and universality, this new section of pipe can be installed using a different material to the original pipe (more modern, lighter and easier to adapt on site to fit the required size). Of course the difference in diameter is not a problem either [HERMETICA ESC SERIES with EASYCLICK technology].
While in case 1, the clamp can be installed under pressure (as long as the work area is safe for maintenance crews), case 2 will be a longer repair process that requires shutting down the mains service for a period of time. In either case, for a definitive and cost-effective solution, G-BLock ACTIVE SEAL clamps are a better option.
What to do in the case of separated, misaligned or deviated pipes?
Breaks that occur after ground movement or other forces acting on the pipe cannot be adequately resolved with a PASSIVE SEAL repair clamp. Simply put, these products are not designed to withstand such forces, so using them in this regard will only be a temporary repair (with all the cost overruns associated with such practices).
My repair has a separate, misaligned or angled pipe, what can HERMETICA do for me?
To solve these types of breaks, we must first recognise that ground movement is the root cause, and any solution must be compatible with this fact by offering a dynamic capability. Our ACTIVE SEALING allows both connecting pipes already deflected at an angle at the time of maintenance [up to 3º per end] and dealing with these deflections throughout the service life of the pipe.
My network has problems with its current connections, can I use HERMETICA here?
Connector breaks can be particularly difficult to repair, as they require great attention to detail, especially if the pipe is made of asbestos [asbestoscement]. In these cases, precautions relating to hazardous materials must be taken into account. Of course, at this stage, there is no doubt that for this type of break, a PASSIVE SEAL flat joint repair clamp is not enough.
HERMETICA's ACTIVE SEALING solution carries out this work with all the necessary guarantee to be used as a definitive solution.
In short, is it an improvement that can help my maintenance operations?
Many technicians consider PASSIVE SEAL repair clamps to be temporary and inexpensive solutions to serious pipe breaks, while others think that continual replacement of repair clamps is commonplace. It is normal to claim that "That's how we've done it for the last years and it's been fine", but, as with other products and sectors, fortunately there are companies developing better performing and better performing technologies.
It is key that installers have several permanent repair options available to them, as this will reduce water losses and costs for municipalities in the long run.
The situations named address soil movement, the general cause of pipe breaks. If only PASSIVE SEAL clamps are used, installers will find themselves having to make repeated repairs.
G-BLock Technology | ACTIVE Sealing
Our Repair Technology offers a definitive and permanent repair solution for damaged pipes.
We provide a versatile solution to ensure repair even in extreme situations where pipes are separated, misaligned and deviated regardless of whether we are faced with cracks, perforations or pitting (corrosion).
With full compatibility with any pipe material. If you need to repair asbestos, steel, cast iron, PVC, PVC-O, PRFV, concrete… HERMETICA have a solution.
Our solutions offer a working range to cover several external diameters with a single reference.
Some HERMETICA references from DN 60 to 300. Our range covers diameters from 60 to 4000 mm.
With a full range of production [full catalogue here] we can solve any problem you may face. Count on our experience at your service
Today, our ACTIVE SEALING technology has more than 200.000 units installed worldwide and more than 25 years of experience.
DHSF | HERMETICA is present in 31 countries through local partners, with solutions installed on 5 continents.
Our experts can help you to improve all your maintenance operations.
Do not hesitate to contact us.
Post en LinkedIn